TORONTO, Nov. 21, 2023 (GLOBE NEWSWIRE) — The California Prune Board and culinary expert, Chef Rodney Bowers have teamed up to help elevate Canadians' holiday recipes this season with the nutrient-rich goodness of California Prunes. With delicious recipes that deliver quality ingredients, versatile flavours and enhanced health benefits, this culinary collaboration is ready to inspire holiday tables with a fresh take on festive dishes.
"When I reflect on holiday memories, I think about how flavourful family recipes bring people together. This year, I've added California Prunes to my treasured recipes. Their natural sweetness, rich taste and versatility make them a star ingredient for cooking and baking," said Chef Rodney Bowers who loves to cook with the flavourful, under-the-radar superfood.
This season, try Chef Rodney's Sweet, Spiced Cornish Hen with Macerated Prunes, Olives, and Lemon, which is sure to take the spotlight at seasonal gatherings. This savoury dish combines juicy Cornish hens with a delicious mix of softened California Prunes, olives, and lemon. Serve this with Chef Rodney's Jeweled Couscous for a delightful blend of sweet, tangy, and savoury flavours that'll have your guests asking for seconds.
For a delightful holiday appetizer, Chef Rodney introduces Kabocha Squash and Prune Fritters with Miso and Prune Sauce. These fritters, made with the delicate balance of Kabocha squash and California Prunes, offer a rich, creamy centre that's crispy on the outside. Paired with the savoury miso and prune sauce, the combination creates a perfect harmony of flavours, balancing the sweetness of California Prunes with the savoury notes of miso for a satisfying taste experience.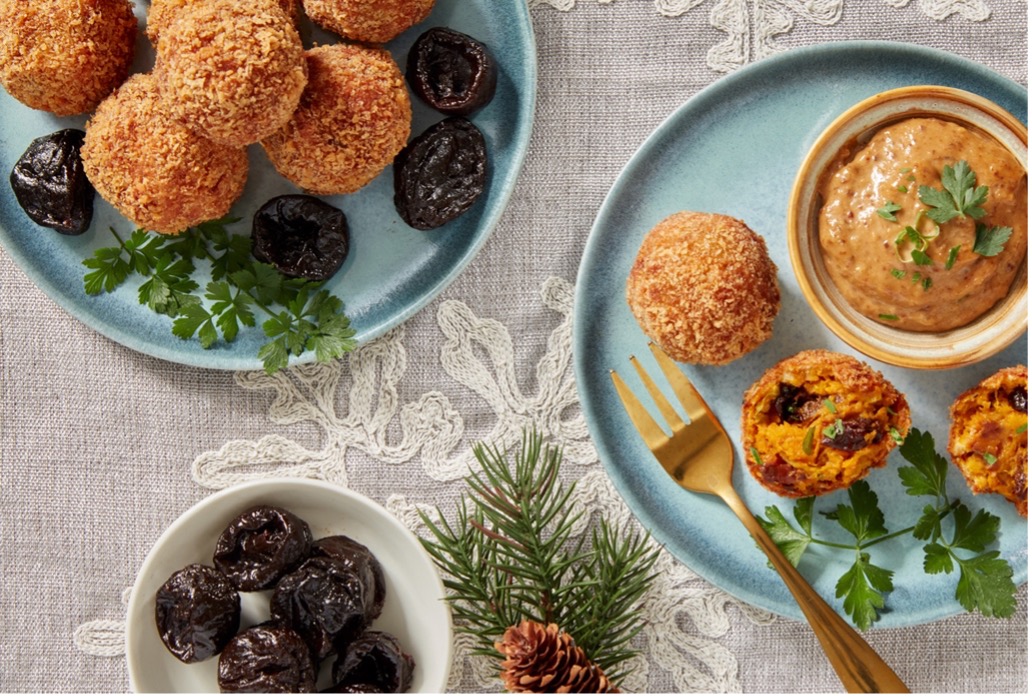 But it's not just the mouth-watering flavours; these recipes offer an added benefit of being a nutritious option for holiday hosting that are packed with vitamins, minerals and fibre, contributing to good bone, gut and heart health and supporting overall health and strengthening the immune system.
"When you choose California Prunes, you're choosing quality, taste and versatility, all while taking care of your health. It's the perfect ingredient to incorporate in unforgettable holiday dishes that will leave a lasting impression on your guests," Chef Rodney Bowers shared.
Please contact us for quotes or additional images for the recipes.
Visit https://www.californiaprunes.ca/recipes/ for these and more recipes.
EDITOR'S NOTES
Please do not use any quotes contained within this press release in news stories or features without the express permission of the California Prune Board.
ABOUT THE CALIFORNIA PRUNE BOARD
The California Prune Board was established in 1952 to represent growers and handlers under the authority of the California Secretary of Food and Agriculture. California is the world's largest producer of prunes with orchards across 14 counties in the Sacramento and San Joaquin valleys. Promoting a lifetime of wellness through the enjoyment of California Prunes, the organization leads the premium prune category with generations of craftsmanship supported by California's leading food safety and sustainability standards.
FOR MEDIA ENQUIRIES PLEASE CONTACT:
Quinn Densmore, Harbinger Communications
[email protected]
902.223.0506
Photos accompanying this announcement are available at
https://www.globenewswire.com/NewsRoom/AttachmentNg/7d2935ba-fbaf-4add-a87a-df91f070875b
https://www.globenewswire.com/NewsRoom/AttachmentNg/8b4237c7-e787-4f46-a6bb-51a33c3b9d69